General Motors CEO Mary Barra said Thursday the company is accelerating its electric-vehicle efforts, pulling forward the schedule on many future launches, and expanding the number of EV models it sells globally to 30 by the end of 2025—a larger number than the dozen future EVs shown to journalists in a no-cameras presentation in March.
While they weren't explicitly mentioned in the presentation, two new all-electric Chevrolet vehicles appeared behind Barra and other GM executives as a backdrop. They are a full-size pickup truck and a compact crossover utility vehicle, whose schedules have been pulled forward by 11 months and a whopping 21 months, according to a slide she presented. They sat silently next to the 2022 GMC Hummer EV revealed a few weeks ago, a vehicle whose audaciousness is meant to reset the image of EVs among U.S. buyers.
Barra spoke at the Barclays 2020 Global Automotive Conference, joined by Doug Parks, GM's executive vice president of global product development, and Travis Hester, newly appointed as its Chief EV Officer. Their 45-minute presentation underscored the largest U.S. automaker's burning desire to be seen—and valued—not as a hidebound bastion of Old Detroit, but as an EV company in the company of Tesla, Rivian, and other high-valued startups.
The CEO revealed more about the largest U.S. automaker's electric-vehicle strategy during the latest of what has become a regular cadence of announcements (some meatier than others). Fully 40 percent of the models GM sells by the end of 2025 will be battery-electric, she said. More than two-thirds of those 30 different electric vehicles will be offered in North America, she said, a subtle indication the company's BEV onslaught isn't solely intended for China. They will include entries from all four GM brands: Buick, Cadillac, Chevrolet, and GMC.
GM will pull forward the launch date for its 2023 Cadillac Lyriq, she said, from the end of 2022 to the first quarter of that year. The speed-up reflects the company's new standard timeline for development of new Ultium vehicles: It will have taken the 2022 GMC Hummer EV just 34 months from program approval in the summer of 2018 to the first production model rolling off the assembly line at the end of next year.
More billions, price parity coming
The company is also boosting its investment in EVs and autonomous technology to a total of $27 billion through 2025. That's an increase from its previously announced commitment of $20 billion. Since the start of the year, GM has said it will build EVs at two plants—Detroit-Hamtramck, lately renamed 'Factory Zero,' and Spring Hill, Tennessee—in addition to the Orion plant in Michigan already building the Chevrolet Bolt EV and derivatives. Barra noted as well that its joint-venture cell plant in Lordstown, Ohio, with LG Chem is already ahead of schedule in construction.
GM said it already has working prototype cells for a second generation of Ultium batteries, using lithium-metal anodes, less costly cathodes, new electrolytes, and more. In full production, those mid-decade battery packs will cost 60 percent less than today's Bolt EV battery packs on a per-kilowatt-hour basis. Those advances will raise the maximum range of some vehicles using its Ultium battery technology from 400 miles to as much as 450 miles when fully charged.
The Ultium architecture, Parks told journalists in a preview briefing, will bring the company's EVs closer to price parity with gasoline-powered vehicles. GM will offer EVs "at all price points," which he said means "darn near" a full range of vehicles matching its current lineup, from small hatchbacks below $20,000 to $100,000-plus full-size extended SUVs.
"By the middle of the decade," Park said, "We'll be in all the high-volume segments"—which in 2020 means full-size pickup trucks, three-row crossovers, and compact crossovers above all—though he admitted GM may not offer EVs "going down into the teens" [in price].
Future electric Chevrolets
During its March 'EV Day' presentation, GM showed renderings of an electric full-size Chevy pickup with four doors and an integrated bed that resembled a reconstituted version of the Avalanche sport truck sold from 2002 to 2013. That appears to be the one shown behind Hester. The shadowy lighting revealed only large wheels, a blunt but blanked-off front without any kind of mock grille, and its Avalanche-like profile.
On the preview call, Parks alluded to a compact crossover utility roughly the size of today's Chevrolet Equinox. With a battery under the floor, it may well have more interior room than the Equinox, but Parks confirmed it would be priced in "the rough ballpark" of that vehicle's range: under $40,000.
Compact crossovers are not only the largest-volume U.S. segment along with pickup trucks, but where Ford, Hyundai, Kia, Nissan, Volkswagen, and others plan affordable EV entries with more than 200 miles of range. While Chevy clearly won't be the first EV compact crossover, GM likely intends it to be one of the highest-volume entries—in line with Barra's stated goal of establishing "leadership until we are # 1 in America" as it exceeds 1 million EVs a year globally by 2025.
EV Day also included a mockup of a "muscular" mid-size Chevrolet crossover, bringing battery-electric propulsion into the profitable three-row utility segment. At least one other mass maker plans to introduce such a vehicle, but five-seat compact crossovers sell in higher volumes, and it appears that's where Chevy is aiming first.
Battery cells in massive volumes
A Chevy compact crossover won't be the only one, either. Barra said that by 2023, GM will have unveiled "several key high-volume entries" in multiple segments. One might suggest they could easily come from multiple GM brands in an array of prices, with Chevy as the value brand and Cadillac at the high end, offering the most advanced technology—cue mention of the Super Cruise hands-off automated driving assist system—and the first to go all-electric.
Throughout the presentation, Barra and Parks stressed that every Ultium vehicle sold globally would use the same Ultium cell. One million EVs in 2025 using 10 modules of 24 cells apiece translates to 240 million cells, a number at which it believes true efficiencies of scale come into play.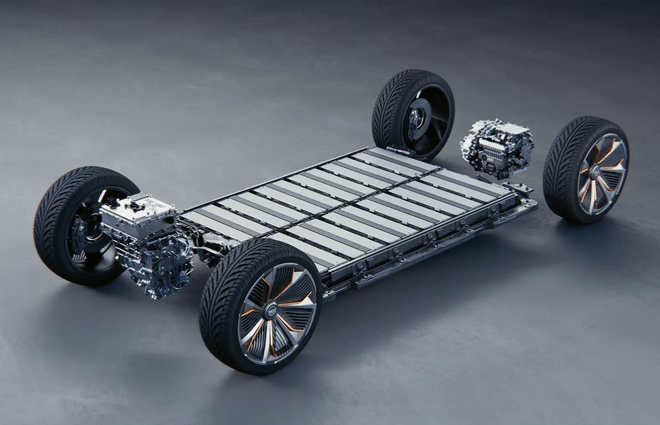 GM's expertise in supply-chain management has been combined with LG Chem's, Parks said, bringing new cost reductions to the entire cell materials-sourcing and fabrication process.
It's likely GM will carefully space out announcements of each of its new battery-electric vehicles for maximum media impact over the next five years. On the other hand, if it has a dozen and a half left to come for North America, that suggests a lot more launches at regular intervals.
Given GM's 30-year history with electric vehicles, and its various discarded EV strategies over that time, the company justifiably attracts more passionate skeptics than do Ford and FCA—from which EV advocates simply expect less. But $27 billion is rather a lot of investment, so there seems a fair chance that three years hence, the EVs will be coming thick and fast.
How GM's array of production EVs stacks up in price, range, features, and volume against those from Tesla, Volkswagen Group, and others promises to be fascinating to watch.