General Motors opened the doors of its Design Center Wednesday to show off a promised lineup of future electric vehicles to be sold in North America by Chevrolet, Cadillac, GMC, and Buick—a dozen vehicles all told, part of the 20 new EVs by 2023 it promised more than two years ago.
Sadly, the journalist-only event was a "no photos, no cameras" event, strictly enforced. It released only a small number of vehicle teaser sketches, meaning descriptions will have to do. The main focus of the event, however, was the details of its future battery systems and vehicle platforms.
The company provided substantial detail on its upcoming "Ultium" modular battery architecture, to be manufactured in a joint venture with Korean cell maker LG Chem. And it detailed the future electric-car platform, known as "BEV3," that will underpin virtually all its future EVs over the next few years.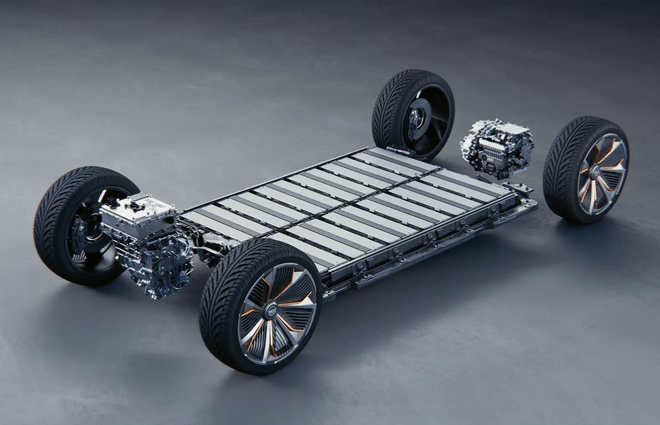 The company declined to provide details on comparable product plans for China, an EV market many times the size of that in the U.S. and Canada. The Ultium battery system, however, has been designed to accommodate not only the pouch cells used in North America but also the prismatic cells more common for Chinese-built EVs.
The event marked a change for the company, which has been notably tight-lipped about plans for a wide range of battery systems and EVs it's worked on for several years. The goal of the event was as much to persuade Wall Street analysts and financial investors that the largest U.S. car company has a plan of attack for the future that will take on Tesla directly. Today, GM's sole battery-electric vehicle on sale is the Chevrolet Bolt EV, now in its fourth model year.
An updated 2021 Chevrolet Bolt EV will appear this fall. Beyond that, however, none of the vehicles GM showed will appear at dealers until at least the middle of next year.
The company didn't allow photos and declined to provide images of any of the dozen vehicles. But here's the schedule of known production dates GM presented.
Late 2020: Updated 2021 Chevrolet Bolt EV, with revised seats, a new dash with a larger display, and restyled front end and rear lamps.

Summer 2021: The long-awaited 2022 Chevrolet Bolt EUV, a "crossover utility" derivative of the Bolt EV with available all-wheel drive. While it bears a strong resemblance to the existing Bolt, the "EUV" actually shares no body panels and is 5 inches longer, with 3 more inches in the wheelbase and slightly squarer, more SUV-like styling. It will offer Super Cruise hands-free driving—the first GM vehicle outside the Cadillac brand to do so. Like the Bolt EV, it will be built at the Orion assembly plant in Michigan.

Fall 2021: 2022 GMC Hummer EV sport-utility truck, to be officially unveiled on May 20. GM showed attendees two versions of the revived Hummer, however. The four-door sport-utility truck with a short bed appeared in GMC's Super Bowl ad; it will go into production next year. It will be followed by a more conventional SUV at an unspecified date, echoing the Hummer H2 lineup offered from 2002 through 2009. This will be the company's first retail EV to use what GM calls its new Ultium battery architecture—and the first to be built in its all-EV Detroit-Hamtramck assembly plant.

Early 2022: The 2022 Cadillac Lyriq electric luxury SUV, to be revealed April 2. Though it's being revealed earlier, it will follow the Hummer into production at Detroit-Hamtramck. The interior is far more futuristic and elegant than today's Cadillac XT5 and XT6, indicating a new focus on luxury and materials far greater than today's lineup of Cadillac vehicles. This is the vehicle GM first teased in a sketch released back in January 2019, and it will be the first Cadillac to use a word rather than alphameric combinations for the model name.

No introduction dates were given for the rest of the vehicles displayed (or in one case, shown only as a rendering). GM executives repeatedly told the gathered reporters, "Everything you see here is real," meaning all are intended for production by 2023.
The rest of the vehicles included:
Cruise Origin: This six-passenger electric shuttle vehicle was revealed in January as the first design based on the new GM battery-electric underpinnings and Ultium battery architecture. Designed by GM's Cruise autonomous-vehicle subsidiary, the company hasn't said when it will enter production.
Chevrolet mid-size crossover utility: A "muscular" SUV for GM's volume brand, this brings battery-electric propulsion into the profitable three-row utility segment. The vehicle shown was only a mockup, however, indicating Cadillac and GMC will lead the introductions.
Buick mid-size crossover utility 1: A styling mockup with squarer, more SUV lines, the all-electric Buick may or may not be sold in the U.S., according to GM president Mark Reuss. The brand sells roughly five times as many cars in China as in North America, so this is clearly a China-first entry.
Buick mid-size crossover utility 2: A sleeker, sportier version with a more rakish shape, this Buick uses the same underpinnings but offers different proportions. It shares a new Buick "face" that will apply across all vehicles the brand offers, but it too is China-first.
Cadillac full-size SUV: Also a mockup, this Escalade-sized vehicle is big, square, and rides on the same underpinnings as the pair of GMC Hummer vehicles that will launch next year. Renderings of its interior showed the same
Cadillac Celestiq: The last vehicle revealed at the event is a low fastback sedan, very long and very wide, that will be a new flagship for GM's global luxury brand. Styling aside, the car will offer a degree of hand-building and customization Cadillac has never before offered—and advanced technologies including a future generation of Super Cruise, according to Reuss.
Chevrolet: Shown only as a rendering—but pledged to be a "real vehicle" by its designer—this all-electric full-size Chevy pickup offers four doors and an integrated bed that resembles nothing so much as a reconstituted version of the Avalanche sport truck sold from 2002 to 2013.
New cell chemistry
The Ultium cells themselves are long pouch cells that use a nickel-manganese-cobalt-aluminum (NMCA) chemistry. GM claims they will use the least cobalt and the most nickel of any large pouch cell (the format it has used for all cells from LG Chem since 2010). The pouch cells are to be used in North American batteries, but the Ultium architecture also accommodates prismatic cells, likely intended for vehicles produced in and for China.
The company noted the battery-management system is built into the pack, eliminating 80 percent of the wiring needed for earlier battery designs like those of the Chevy Bolt EV. That's just one of many design innovations, it says, that reduce the overall cost of the cells, modules, and packs.
In fact, GM said the $2.3 billion joint venture with LG Chem it announced in December would drive cell costs below $100/kwh. "Ongoing technological and manufacturing breakthroughs," it added, "will drive costs even lower"—presumably to $100/kwh or lower at the pack level, considered to be the point at which EVs can approach cost parity with engine-driven vehicles.
The GM-LG Chem plant to be built in Ohio will have an ultimate production capacity of more than 30 gigawatt-hours a year. The company says it expects to be selling 1 million battery-electric vehicles a year globally by 2025, a number that echoes the longstanding goal of VW Group's electrification program. The German company, however, recently moved that goal up to 2023.
Flexible platforms, battery configurations
The Ultium battery architecture has been designed in tandem with the BEV3 platform, letting GM design vehicles of several sizes, across multiple segments, with widely varying pack capacities. It says the platform will support "affordable transportation, luxury vehicles, work trucks, and high-performance machines."
The BEV3 platforms that underpin all the vehicles shown (except the two Chevy Bolts) come in several flavors. Battery modules can accommodate cells stacked horizontally or vertically, and modules can be stacked two high, giving greater capacity and a thicker floor for taller trucks. Or the modules can be quite slim—no dimensions were offered—to give a thin floor for a low vehicle like the Cadillac Celestiq.
BEV3 battery capacities will range from 50 to 200 kilowatt-hours, giving ranges up to 400 miles or more. Motors it has designed in-house can power the front wheels, the rear wheels, or all four wheels. The company acknowledged 19 different battery and motor combinations, including cells stacked both vertically and horizontally—allowing vehicles of varying heights, from passenger cars to crossover utilities. That range of drivetrains compares with the more than 500 engine-transmission combinations GM offers globally today.
Perhaps most importantly, GM says every electric vehicle using Ultium batteries and its BEV3 platforms will be profitable from Day One. After more than 10 years of battery-powered cars, the company appears to have reverted to the traditional approach for auto technology innovation: start at the high end, where profits are richest.
Asked about less-expensive vehicles for the mass market, GM president Reuss said, "There's really no limit" to how low EV costs can go as battery costs continue to fall. So while the Bolt EV and its Bolt EUV derivative clearly aren't profitable, the electric vehicles of 2022 and later are supposed to be.
Will Wall Street buy those claims, along with reports of more than a dozen different EV models to be offered globally by 2025? GM's shareholders—and its management—devoutly hope so. Will Tesla adherents gain some respect for the largest U.S. carmaker, the one that offered EVs while Elon Musk was still coding software? That may be a harder challenge.
General Motors provided airfare, lodging, and meals to allow Charged EVs to bring you this first-person report.