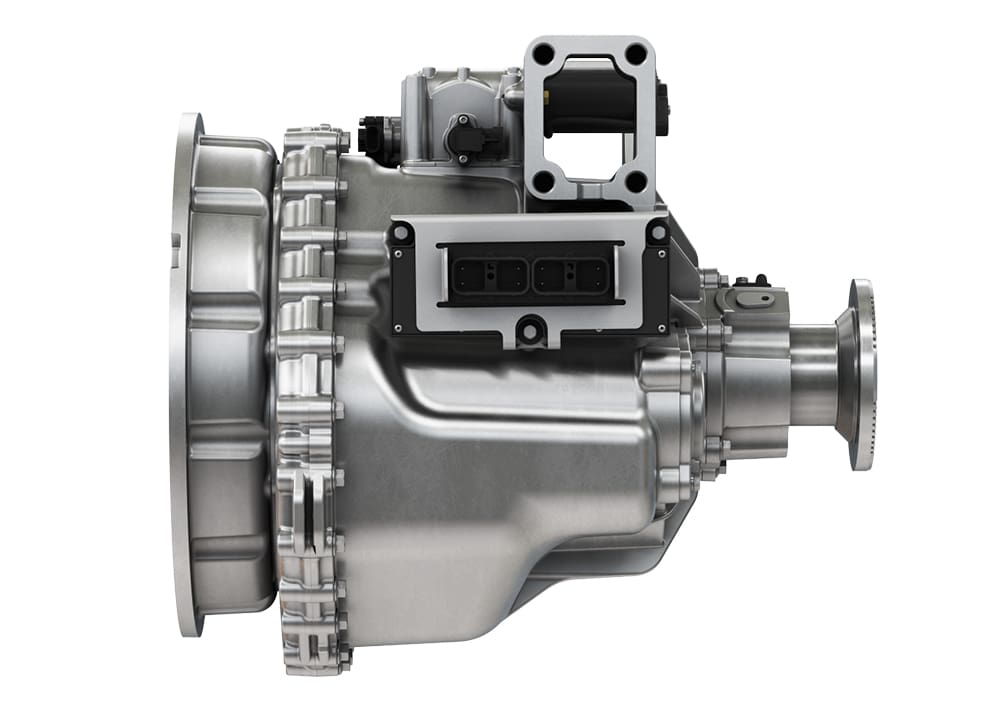 Sponsored by Eaton.
Electric vehicles are transforming the transportation industry, offering a cleaner, more efficient, and more sustainable way to move people and goods. However, not all EVs are created equal, and different applications require different powertrain solutions. For commercial vehicles, such as buses and HD trucks, performance, reliability, and cost are critical factors that determine the success of electrification. That's why Eaton, a global leader in power management technologies, has developed a range of innovative EV transmissions that are designed to meet the specific needs of electric commercial vehicles. Eaton's new HD 4-speed EV transmission is a purpose-built solution that delivers superior performance, efficiency, and integration flexibility for heavy-duty applications.
A common misconception is that EVs don't need transmissions, since electric motors can provide instant torque and operate over a wide speed range. However, this is not the case for many electric commercial vehicles, which must deal with heavy loads, steep hills, and highway speeds. A single-speed or direct-drive system either requires a very large and expensive motor to provide enough power and torque to the wheels or limits the performance and range of the vehicle with a reasonably sized motor. A multi-speed transmission, on the other hand, can expand the operating range of the motor, reduce its size and cost, and improve the efficiency and performance of the vehicle. A multi-speed transmission also enables improved regenerative braking performance, recovering more energy from the vehicle's motion and reducing wear and tear on the foundation brakes.
While transmissions are beneficial for EVs, they don't need as many gear ratios as conventional vehicles with internal combustion engines (ICEs). This is because electric motors have a much faster and smoother torque response than ICEs and can provide continuous peak torque over a much wider speed range. This means that fewer gears are required to cover the same operating range, and that the vehicle can spend more time in the optimal gear for efficiency and performance. For example, a typical diesel truck might need a 10-speed transmission to handle different road conditions, while an electric truck can achieve the same performance with a 4-speed transmission. Eaton has leveraged its expertise in gear design and shifting technology to develop EV transmissions that offer the optimal number of gears for different applications, ranging from 2-speed to 6-speed.
There are three main types of EV powertrain architectures that can be used for commercial vehicles: central drive, e-axle, and direct drive. Each of these architectures has its own pros and cons, depending on the application, performance requirements, packaging constraints and cost factors. Eaton's EV transmissions are currently focused on central drive architectures, which consist of a chassis-mounted motor and transmission connected to the axle by a driveshaft. This architecture offers several advantages, such as low complexity, proven reliability, ease of integration, flexibility of motor selection, and excellent battery packaging space. Eaton's EV transmissions can also be adapted to the e-axle architecture, which integrates the motor and gearbox into the rigid axle, offering the best battery packaging space availability. The direct drive architecture, which eliminates the transmission and connects the motor directly to the wheels, is not recommended for heavy-duty applications, as it requires a large and expensive motor and limits the performance and range of the vehicle.
Eaton's HD 4-speed EV transmission is a state-of-the-art product that is designed for heavy-duty applications, such as beverage, tourist bus, yard tractor, drayage, city dump truck, municipal and logistics trucks. It has a maximum torque capacity of 2600 Nm and a maximum input speed of 5000 rpm, making it suitable for vehicles with a gross combination weight of up to 43 tons. It also features an all-aluminum enclosure, helical gearing, a transmission-mounted control module and an integrated electric actuation system, resulting in a lightweight, high-efficiency and low-noise transmission. Eaton's proprietary shift control logic ensures smooth and seamless gear changes, while the rear PTO option enables auxiliary power for accessories. The HD 4-speed EV transmission also offers easy integration with multiple motor options, thanks to the SAE #2 motor adapter. The HD 4-speed EV transmission is currently in the B-sample stage, with the start of production planned within 2024.