ConnectDER's meter collar working together with Siemens's charging station could save up to 80 percent of installation costs
Getting set up to charge an EV at home is easy and affordable—except when it isn't. For many, especially those who live in older homes, installing a home Level 2 charging station may require an upgrade to the home's electrical service, and/or a new panel (breaker box). By some estimates, nearly half the homes in the US may need these types of electrical upgrades to allow the installation of a typical Level 2 charger, which requires a dedicated 240 V circuit providing 40-60 amps. Upgrading the panel is a substantial job for an electrician, and the cost can easily run to thousands of dollars.
Fortunately, there are workarounds for this problem—and opportunities for companies that can offer ways for homeowners to avoid expensive panel upgrades.
ConnectDER (pronounced kuh-nek-ter) is a young company that currently offers a solution to a similar problem that some homeowners face when installing solar panels. Its clever products are based on a collar that connects to the meter socket, bypassing a building's service panel. The company says it has some 15,000 collars installed nationwide for solar applications.
Now ConnectDER has formed a partnership with Siemens, one of the world's largest electrical infrastructure providers, to bring its meter collars to EV owners in need of a simpler charging solution.
Under the new agreement, ConnectDER will supply Siemens with a proprietary plug-in adapter for EV chargers. The new device will be designed and manufactured by ConnectDER exclusively for Siemens.
According to ConnectDER, the adapter will allow an EV charger to be installed in 15 minutes, and avoiding the need for electric panel upgrades could save a customer as much as 60 to 80 percent of the charger installation cost.
Charged spoke with Whit Fulton, CEO of ConnectDER, and Chris King, Senior VP of Strategic Partnerships at Siemens, to learn more about the two companies' new partnership.
Charged: How did ConnectDER first develop the idea of a meter collar, and why was solar the first application?
ConnectDER's Whit Fulton: The whole idea behind the company was to take the friction out of connecting large-scale assets like solar, electric vehicles, energy storage, into homes using an electric heater socket—it's a giant socket you could use for an entire application there. We recognized that, and started the company about 10 years ago. And the low-hanging application was solar, because solar was growing really fast then. EVs were just on the horizon.
We realized that all the wiring challenges inside a house, especially service panel upgrades, could be completely avoided if you created a safe interconnection point, if it was plug-and-play with a circuit breaker in it, at the meter socket. And then that was it. How can we create a plug for this stuff?
Obviously, the technology footprint for distributed resources has evolved [since then], especially with the growth of electric vehicles and then vehicle-to-home, vehicle-to-grid applications. It was always our roadmap to really go after that, to be able to support that segment of the market. And Siemens came along at the right time. Chris King reached out and said, "Hey, we're interested in looking at how we can work together on these things." And we said, "Your timing's great. We're already hard at work on this stuff. Let's talk about how we can put the pieces together."
Charged: With this partnership between Siemens and ConnectDER, you'll have a smart charger that talks to the meter collar and then balances the power of the whole system. Is that the idea?
Siemens's Chris King: There will be different versions of the product over time. Initially, we're keeping it very simple. Keep the cost down, keep the installation simple. It will act as a circuit breaker, so if the combined load of the EV and the house are approaching overloading the circuit, then it will shut off the EV charger.
Now this is actually something that we expect to happen very rarely, because you have to have basically all of your appliances on in your house to come close to your service load. You've got to have your electric oven on, and your cooktop, and your air conditioner and all that stuff. We don't expect that to happen often, just as circuit breakers don't go off very often.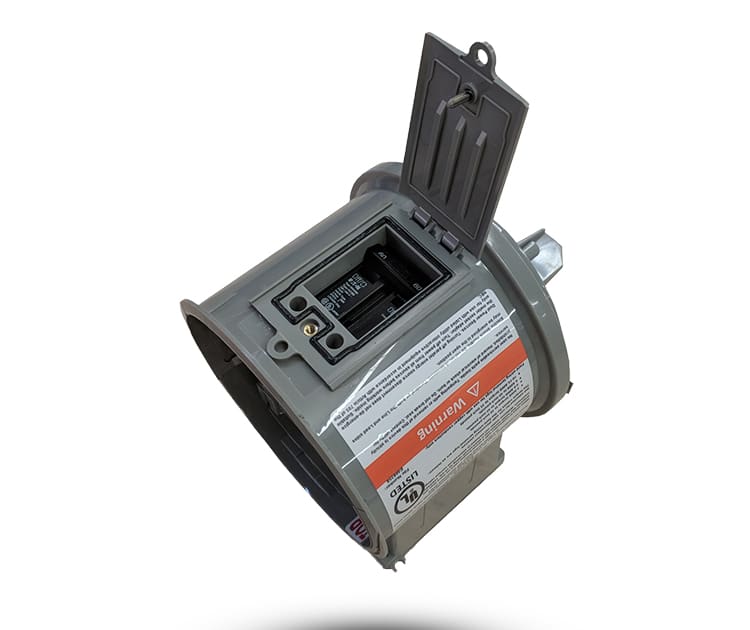 Charged: You need to get local utility approval to install it, right?
Whit: Yes, it requires utility approval or state-level approval from the regulators and whatnot, but we're less concerned about that element of it at this point, given the fact that we've seen so much interest and appetite. It will take some time to go through the process to make sure utilities are comfortable with it, but we're very confident that we'll have widespread deployment over the course of 2022.
Historically, utilities were not particularly keen on having things between the meter socket and the meter. Really, it's the utility's space, for safety reasons. But it's just so valuable. The importance, the value of having a place you can just plug these things in has really shifted the entire mindset around the value of using that meter socket for more things than just meters.
And utilities have really come around to that too. They recognize the need for electrification, they recognize the need for decarbonization, and they're looking at all the elements that are on the table around that to take advantage of. And so our solar product got off the ground. It took a while to get utilities to come around to the idea of it, but now it's going really fast. And the EV aspect of this—utilities are really excited about providing ways for faster, cheaper electrification. We've already got a lot of utility demand in the pipeline for this product set.
Charged: Talk us through the value proposition. What exactly does this solution replace? What are your key figures as to what you can save if you use this instead of going the traditional route on the solar side?
Whit: Just in thumbnail, the value propositions are very equivalent for EV and for solar. For solar, you need to have enough ampacity in your service panel, and also easy access to that service panel in order to tie the inverter into the service panel. So, solar comes off your roof, goes inside your house, goes wherever your service panel is, and that's where it's wired in. There's a circuit breaker there that's associated with that solar system. A lot of that's just like with an EV charger. That solar PV system needs to have a circuit breaker associated with it that has to fit with the total limit of your service panel.
What we're doing for solar is exactly the same as what we're doing for EV, with a little bit of extra magic on the EV side. We have a circuit breaker inside the collar that allows you to connect the solar into the collar and have the circuit breaker sized to the inverter. So, you just take the solar off the roof, tie it into your meter collar, and you're done. That's it. There's no going inside the house, no service panel upgrades, because it's a completely separate circuit breaker, almost like a mini-service panel for the solar, that's separate from the [main] panel.
The only difference for the EV product is that solar's pushing power in, and the EV is drawing power. So, if the EV is drawing power at the same time as your [service] panel's drawing power, you have to make sure that those two things don't combine to draw more than the service can handle. And that's what our collar does.
Charged: Obviously, this system will have to be installed by a licensed electrician, correct?
Chris: Yes, and Siemens has a network of existing installers that we work with. And this will be very simple—you get trained on it in five minutes. It's literally unplugging something, plugging the collar in, and then plugging the meter back into the socket.
Then the wire and conduit will run from wherever your charger is right into the collar. And that's another convenience. A lot of meters are near driveways, so then it's a really easy installation of the charger there.
Charged: You're estimating that a customer could save 60 to 80% by using this and avoiding the need for electrical panel upgrades, is that right?
Whit: Yes, It's a 15-minute job for an electrician, but they'll have a "get out of bed" cost they charge no matter what, just to come to your house. You can probably do the math as far as what the electrician will charge, and it'll vary by state, but it isn't a particularly big job. So, the total installed cost versus a service panel upgrade, it really is a fraction.
Charged: We've been covering Siemens work in the residential EV charging market for many years now, so this seems like a natural partnership. Siemens is also in the commercial and fleet charging space as well, correct?
Chris: Yes. Our e-mobility business has a full range of hardware and software for EV charging. We break up the market into four segments. For Level 2, the residential and the commercial; and then for Level 3, DC fast chargers, it's the public market and then the private depots like transit agencies and truck depots. We serve all of those markets.
We have software that will manage fleet charging as well, and then we can provide services. So, if you're building a charging depot, we can do a turnkey service and provide the chargers. One of the differences for us is that we also have electrical equipment, so we have all the make-ready equipment, the switch gear and circuit breakers and everything else to connect up to the grid interconnection, which could include a transformer if it's a larger charging depot.
Charged: Is there a particular residential home size or age that you have identified as most in need of major electrical upgrades to accommodate Level 2 charging?
Whit: There's one element that we really haven't talked about it in the media too much, and that's the overlap with underserved communities that we can help unlock. There's a high level of overlap between 100-amp service panels in smaller homes and low- and middle-income customers. We feel there's a particularly strong alignment here of what we're doing to help unlock access to EV charging for a greater swath of people.
You pair that up with the incentives that federal and state governments are providing for EVs for low- and middle-income customers, and I think it's a really nice alignment there. We're really excited about those two things going hand in hand. We feel like there's a really nice additional play on top of just being a benefit to everybody—there's a particularly strong benefit to underserved communities.
This article appeared in Issue 61: Jul-Sep 2022 – Subscribe now.