Nikola Motor Company, named for a certain Serbian-American inventor, recently unveiled its Nikola One electric semi-truck at its Salt Lake City headquarters.
The Nikola One has an electric drivetrain powered by lithium batteries, as well as a hydrogen fuel cell. It has a range of 800-1,200 miles, and delivers over 1,000 hp and 2,000 ft-lbs of torque, which the company says is nearly double that of any diesel semi-truck on the road.
Nikola offers a leasing program that includes unlimited hydrogen fuel, warranty and scheduled maintenance for a 72-month term.  The company says it has already accepted reservations representing $3 billion worth of orders. Ryder System, a fleet management specialist with 800 service locations in North America, will be the exclusive distribution and maintenance provider.
"Nikola will build a world-class manufacturing facility which will create thousands of new jobs," said Nikola founder and CEO Trevor Milton.  Nikola is currently in discussions with several states, and will choose a location in the first half of 2017.
The company also unveiled plans for a network of hydrogen fueling stations across the US and Canada, which it plans to begin constructing in January 2018.
"We are extremely excited to finally show off the Nikola One to the public for the first time," said Milton.  "There are many out there that wondered if we would deliver, but today we proudly show off the most advanced semi-truck ever built."
Nikola also announced plans for a 107 kWh battery pack for its electric UTV, the Nikola Zero.  The company hopes to offer its battery packs to OEMs beginning in 2017. "Our battery engineers have made major advances in storage and cooling," said Milton. "We believe our lithium battery packs are more energy-dense and weigh less than any available vehicle production pack per kWh. This new battery pack should give our UTV over 300 miles of range on a single charge."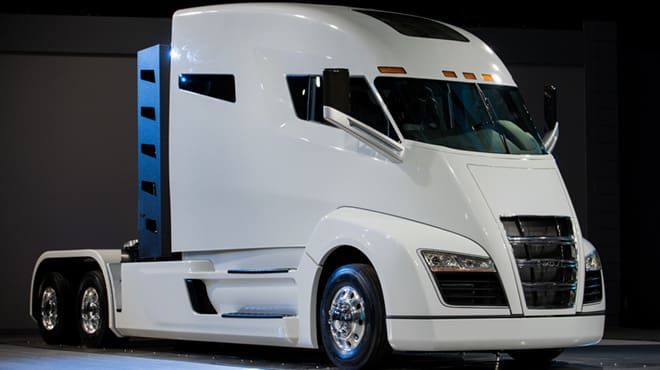 Source: Nikola Motor Company