GM CEO Mary Barra introduced the 2017 Chevrolet Bolt EV in a dazzling sound-and-light show at CES in Las Vegas. The company has earned the right to a little pomp: the Bolt is the first EV to offer a 200-mile range at a price tag "around $30,000" after tax incentives, and it will be a historic moment when it goes on sale later this year.
The sleek five-door hatchback is built on its own dedicated platform (though it shares some suspension components with the Sonic), so GM's designers were finally able to dispense with the compromises inherent in adapting a gas burner.
Like other native EVs (Tesla Model S, BMW i3), the Bolt has a flat battery pack located under the floor, so its interior space is "two segments larger" than its exterior size suggests, quipped Pam Fletcher, GM's Executive Chief Engineer for Electrified Vehicles.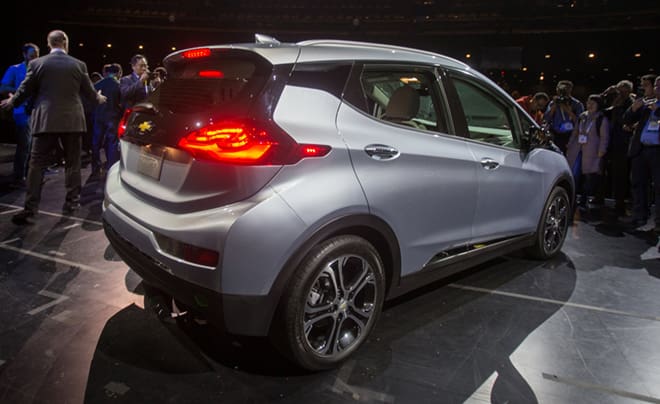 The passenger cabin measures 94.4 cubic feet – would you believe that's a fraction more than that of the much larger Model S? GM says there's room for 5 passengers, but some reviewers found that to be a bit of a squeeze. Cargo volume is 17 cubic feet with the rear seats up, which compares favorably to the Nissan LEAF and Kia Soul EV.
The Bolt features DC fast charging, something that buyers are increasingly demanding. There are several new high-tech features, including self-sealing Michelin tires that are designed to ignore minor punctures.
A digital rear-view mirror linked to a rear-facing camera gives an expansive 80-degree view (almost four times that of a conventional mirror), and Surround Vision provides a bird's-eye view of what's around the car – handy for low-speed driving and parking. The new MyChevrolet mobile app provides info such as charge status, and allows remote start and cabin pre-conditioning. OnStar 4G LTE turns the Bolt into a WiFi hotspot.
Reporters were able to take development versions of the Bolt for a short test drive, and were pleased with the peppy acceleration (0-to-60 in 7 seconds), crisp cornering and steering, smooth regenerative braking and of course, an electric specialty: amazingly silent ride.
During her star turn, Ms. Barra praised the Chevy dealers who will be the gatekeepers to electric bliss for US consumers. Saying that GM believes strongly in the dealer model, she took a little dig at Tesla: Bolt buyers will "never have to travel to another state" to buy or service their EVs. Barra surely wasn't speaking ironically, but even the New York Times has noticed how little interest most GM dealers have in selling the company's current plug-in models.
Source: GM, Green Car Reports