Chrysler holds an enviable position atop the popular minivan segment, and the less respectable distinction of being the leading electrification skeptic among major automakers. So the company's new plug-in hybrid minivan, which is scheduled to arrive in showrooms in late 2016, is something of a milestone.
The Pacifica Hybrid, which Chrysler calls the industry's first electrified minivan, features two electric motors, both capable of driving the wheels, a new 3.6-liter Atkinson cycle Pentastar engine, and a new electrically variable transmission (EVT).
The 16 kWh LG Chem battery pack is located under the rear seat, and is paired with a 6.6 kW onboard charger. Chrysler estimates an electric range of 30 miles and an EPA efficiency rating of 80 MPGe.
Bizarrely, Chrysler doesn't seem keen for anyone to know that the new minivan has a plug. Its official name is the "Pacifica Hybrid," and the company's press release says not a word about its plug-in capabilities.
Autoblog asked Kevin Mets, Chief Engineer for the Pacifica Hybrid, whether Chrysler developed the vehicle in response to customer demand or government regulations. "That's a tough one to answer," Mets said. "Certainly you have to meet all the requirements. You also can pick what vehicles you want to do it on. You pick which vehicle is the best opportunity and this is the one we chose. It's a little bit of both."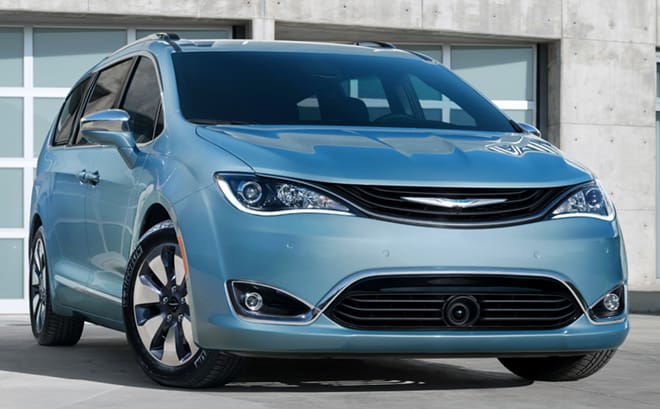 Sources: Chrysler, AutoblogGreen, Green Car Reports